AM Stats: Chinese Vanadium Nitride Producers' Operating Rate Up By 5.9% YOY in Aug
BEIJING (Asian Metal) 11 Sep 19 – According to statistics from Asian Metal Database, Chinese vanadium nitride producers' operating rate reached 44.94% in August 2019, up by 3.7% compared with 43.32% in July 2019 and up by 5.9% compared with 42.44% in August 2018.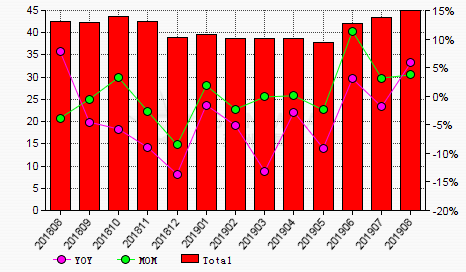 According to the following graph, in August, the operating rate of vanadium nitride producers in Jiangsu, Jiangxi, Shaanxi, Hubei, Sichuan, Henan, Xinjiang and Fujian was 19.09%, 34.29%, 45%, 52.28%, 68.96%, 62.5%, 51.11% and 20% respectively. In particular, the figures in Jiangsu, Jiangxi, Hubei, Sichuan, Xinjiang and Fujian saw increases MOM while the figure in Shaanxi suffered a decline MOM, but the figure in Henan remained unchanged MOM.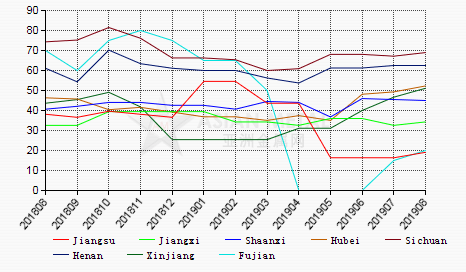 www.asianmetal.com