AMG Vanadium Breaks Ground at Eastpointe Business Park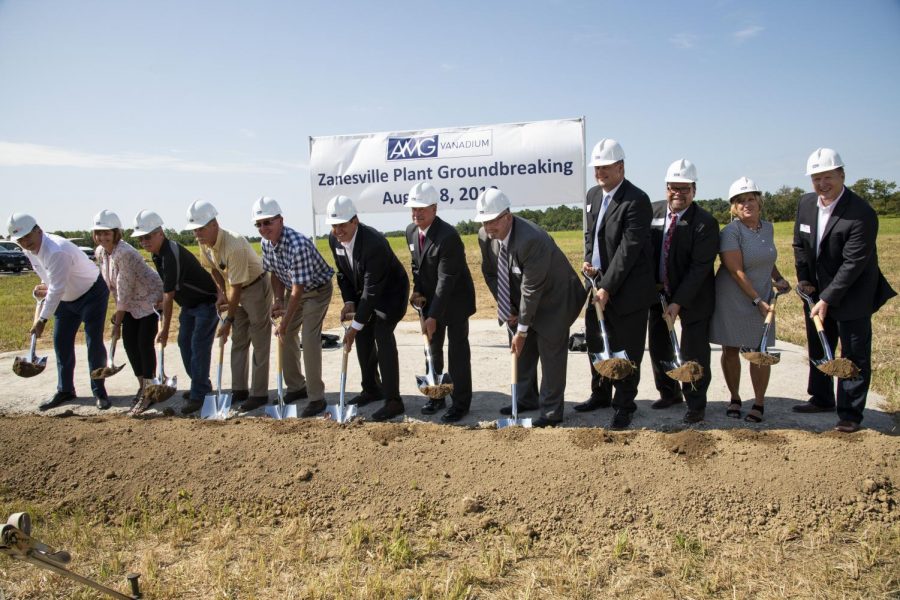 By Christine Holmes, News Director
August 12, 2019
Ground has been broken on a new $300 million dollar facility at Eastpointe Business Park expected to bring more than 100 permanent jobs to the area and another 500 temporary jobs for its construction.
"This is exciting. AMG Vanadium is a company that locally we know a lot about. We know the caliber of company that we're getting, the leadership that we're getting with the company and the community support that they've shown to our neighbor with their plant in Guernsey County," said Zanesville-Muskingum County Port Authority Executive Director Matt Abbott.
The company is no stranger to southeast Ohio. Headquartered in Cambridge, AMG Vanadium is the world's leading provider of resid spent catalyst recycling and metal reclamation services.
After searching for prospective sites across North America and Europe, AMG ultimately decided on Zanesville.
"To me, it was almost a no-brainer," said AMG Vanadium President Hoy Frakes. "It was tough to make a decision anywhere else."
Frakes said the local and state officials he worked with throughout the process were quick-moving and welcoming of his company.
"I can't overstate the feeling of family in the State of Ohio, and it hasn't always been that way," said Frakes. "Certainly with Governor Kasich's support and Governor DeWine's support, you know, it's been a breath of fresh air."
When the facility opens, likely in two years, the company will employ highly skilled and educated workers.
"It's going to be very, very well paid, top jobs," said Frakes.
Operators hired to work for AGM Vanadium will be working highly technical positions and their supervisors will have engineering backgrounds.
"These are the type of jobs that we need in southeast Ohio, these are the type of jobs that we need in Muskingum County, and these will continue to be the type of jobs that we target to bring to our community," said Abbott.
AMG Vanadium works with clients worldwide, including companies such as Marathon, ExxonMobil and Shell for its spent catalyst recycling services.
"We work with all the global oil companies," said Frakes. "And then we process our material and then we deal with the premier steel makers in the United States."
To have a company like AGM expanding it operation at the Eastpointe Business Park is an accomplishment that Abbott says pays homage to the leaders whose vision 20 years ago made the space possible.
"When you look at this 1,500 acre park and you see over 2,500 employees that come here to work everyday, that's a sense of pride for us now and all of those other people that have had a lot to do with this," said Abbott. "And I'm talking city officials, the City of Zanesville, past and present county commissioners and past and present port authority directors."
www.ycitynews.com