Vanadium Miners News For The Month Of April 2018
Date:May 2, 2018
Summary
Vanadium spot prices were slightly lower in April.
Vanadium market news – Mining legend Robert Friedland states: "We think there's a revolution coming in vanadium redox flow batteries."
Vanadium company news – "Neometals vanadium resource a 'massive' 4x larger."
Welcome to the first edition of the vanadium miners news. Vanadium is traditionally used to harden steel; however, vanadium flow batteries (VRFBs) are becoming increasingly popular, especially for commercial energy storage, most notably in China. China has an enormous amount of solar and wind capacity that blend perfectly with this type of energy storage.
Vanadium pentoxide spot price history
The type of vanadium used in energy storage applications is vanadium pentoxide. Due to the recent V2O5 deficit and the very recent boom in vanadium flow batteries, especially in China, vanadium pentoxide (V2O5) prices have been rising.
China Vanadium Pentoxide (V2O5) Flake 98% Price – USD 14.40/lb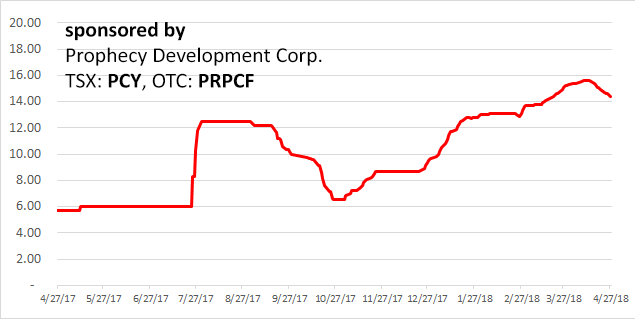 (Source: Vanadiumprice.com)