Vanadium Miners News For The Month Of July 2018
Date:Jul 31, 2018
Summary
Vanadium spot prices were up again significantly in July.
Vanadium market news – Navigant – "VRB to be one of the fastest growing electrochemical storage technology sets over the next decade."
Vanadium company news – Record vanadium prices are boosting profits and sentiment for the vanadium companies.
This idea was discussed in more depth with members of my private investing community, Trend Investing.
Welcome to the Vanadium miners news. July saw vanadium prices continue their spectacular rise. The vanadium sector is hot right now.
Vanadium uses
Vanadium is traditionally used to harden steel; however Vanadium Flow Batteries [VRFBs] are becoming increasingly popular especially for commercial energy storage, most notably in China. China has an enormous amount of solar and wind capacity that blend perfectly with this type of energy storage. The type of vanadium used in energy storage applications is vanadium pentoxide.
Vanadium oxide spot price history
China Vanadium Pentoxide [V2O5] Flake 98{3a701354f219a57e7e7d46a505b70225e975b940de2dd07556e20488ab77339d} Price – USD 18.80/lb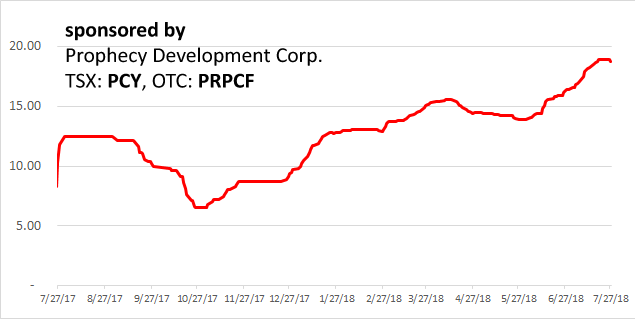 Vanadium redox flow battery [VRB] schematic