Vanadium weekly review (September 3-7, 2018): Vanadium prices soar again amid the returned consumer demand
Date: Sep 7, 2018
www.ferroalloynet.com: Vanadium market sees the price increase again since the steel mills release much consumer demand for ferrovanadium and vanadium-nitrogen. The supplies of ferrovanadium and vanadium-nitrogen are quite tight and the manufacturers have to arrange the order to October. With limited quantity of raw materials (caused by the environmental check), great consumer demand and quite low inventory, Chinese vanadium prices are increased sharply. However, the suppliers with small quantity of spot cargoes are unwilling to sell, waiting for the price further increase.
Steel mills' bidding prices for September
| | | | | |
| --- | --- | --- | --- | --- |
| Company | Product | Price(RMB/TON) | QTY(TON) | Basis |
| Hebei Jingye | Vanadium-nitrogen | 425000 | 20 | Acceptance, tax inclusive |
| Shaanxi-based steel mill | Vanadium-nitrogen | 423000 | 40 | Acceptance, tax inclusive |
| Anhui Changjiang | Vanadium-nitrogen | 419000 | 70 | Acceptance, tax inclusive |
| Fujian-based steel mill | Vanadium-nitrogen | 428000 | 40 | Acceptance, tax inclusive |
| Jiangsu-based steel mill | Ferrovanadium | 277000 | 30 | Acceptance, tax inclusive |
China vanadium market overview
China ammonium metavanadate market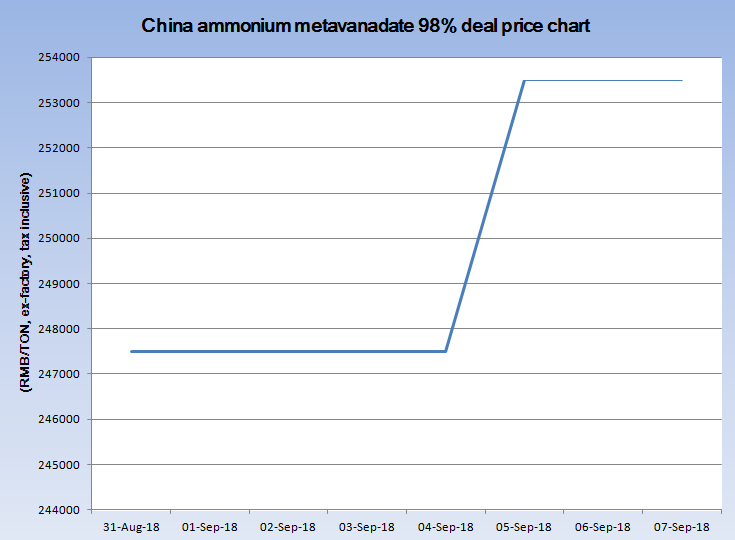 Ammonium metavanadate prices have risen to 251000-256000 rmb/ton by cash from 243000-252000 rmb/ton by cash. There is one transaction report at high price of 255000 rmb/ton. And the traders are willing to restock at the price of 255000 rmb/ton, showing they are bullish about the future market. Hunan Chuangda's selling prices sit at 256000 rmb/ton. Thus, amid the supply tightness and increasing number of enquiries, ammonium metavanadate prices may continue to rise.
China vanadium pentoxide market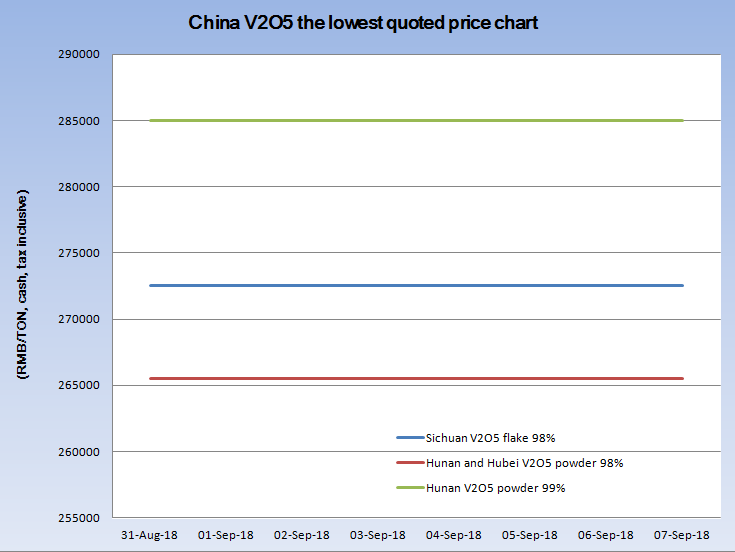 The market prices of vanadium pentoxide flake remain stable this week as the spot cargoes are still concentrated in the hands of Tranvic, Desheng and Jianlong, who remain offering prices stable. V2O5 powder market show the signs of increase today although the transaction volume remains low due to the tight supply. Many V2O5 powder manufacturers have no spot cargoes but increase the price of advance order to 275000 rmb/ton, as the prices of ammonium metavanadate sit at highs but the supplies are quite tight. It is predicted that vanadium pentoxide prices may follow the uptrend next week.